It has been a rough time in the news for Kanye, especially in the past two weeks since Donald Trump got elected the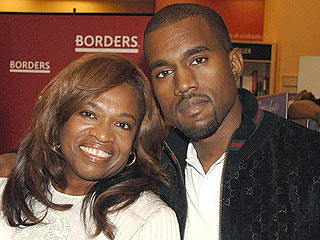 45th President of the United States.
While he has been on his Saint Pablo tour, Kanye has been dealing with trauma in the past couple of weeks. His doctors claim that much of the stress has a whole lot to do with the anniversary of his mother's death that looms over him (his mother died in November 2007). Others have said that it also has to do with his wife, Kim Kardashian, being robbed at gunpoint in Paris, France not too long ago. That was such a stressful time for him that according to some reports, he was falling apart after the robbery. The video also shows him rushing off the stage in dramatic fashion after he heard the news about his wife.
Although there is a whole lot that we, the public, know about Kim Kardashian; many of us are not familiar with Kanye West's mother, Donda. They were very close to each other and Kanye has paid tribute to her in many ways in the past couple of years.
With that being said, here are some things that we do know about the late Donna West.
1. Donda was an accomplished career woman.
Kanye West, believe it or not, was raised by a mother who worked as a professor for thirty-one years. She got her degree from Auburn University and taught at Morris Brown College in Atlanta, Georgia in the 1970's. She quit her job in 2004 to assist her son in his career as Kanye West began to make it big in the world of music.
According to Kanye, his parents split up when he was three and Donda accepted an assistant teaching job at blackeddiscount.com Chicago State University. She eventually rose to become a full-time professor and then became the head of the department of English and speech at the university. This position was held by her for six years.
When Donda West left her teaching job in 2004, she became her son's manager. She wrote a book, Raising Kanye: Life Lessons from the Mother of a Hip-Hop Superstar.
However, that would end up being a short-term job because she died in 2007 from complications of the cosmetic surgery that she had done.
2. Donda West is an inspiration for some of his songs, especially the song called Hey Mama.
One of the songs that came from Kanye West's album, Late Registration, was the song Hey Mama. Although it did not chart the Billboard Hot 200 (It did come in the Billboard top ten for Bubbling Under R&B/Hip-Hop Singles), that song was a ballad for his mother. It was a song that was written to thank her for raising him and instilling good values in him.